45,000 sealed federal criminal indictments is victory for 'We the People' if, and only if, followed by .01% arrests and FULL TRUTH as explained by Congressperson McKinney's 15-minute brief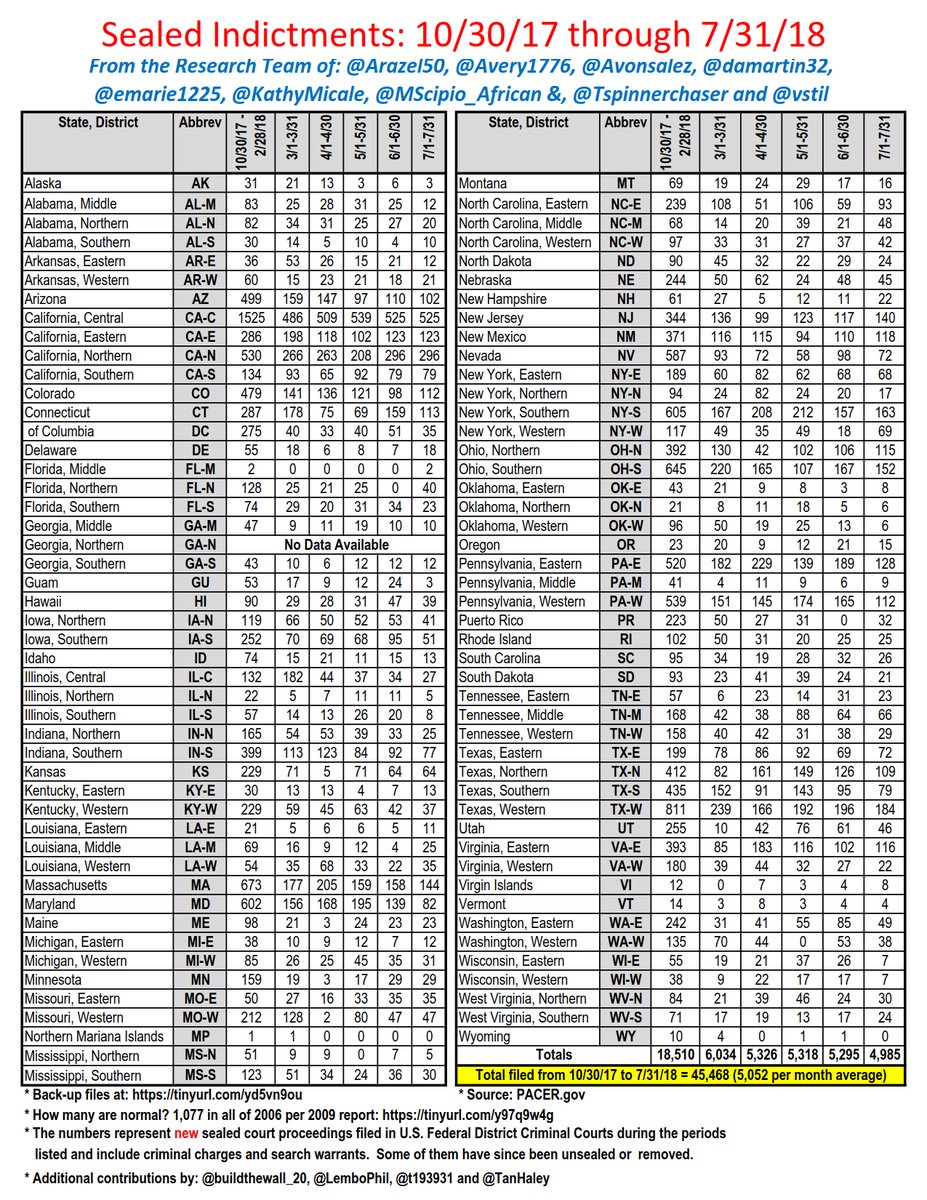 With my documentation of the progression of these sealed indictments, possible meanings, and analysis

here

, please consider 6-term Congressperson and Green Party Presidential candidate Cynthia McKinney's 15 minutes to explain who and what the Deep State is from her June 2018 Red Pill Expo talk (excludes 3 minutes of introductory remarks):
Documentation of Cynthia's factual claims:
Some of Cynthia's facts I'm fully confident to document as objectively accurate and independently verifiable for anyone caring to look:
US 111th Military Intelligence Group were at Dr. King's location during the assassination.

20th Special Forces Group had an 8-man sniper team at the assassination location on that day.

Usual Memphis Police special body guards were advised they "weren't needed" on the day of the assassination.

Regular and constant police protection for Dr. King was removed from protecting Dr. King an hour before the assassination.

Military Intelligence set-up photographers on the roof of a fire station with clear view to Dr. King's balcony.

Dr. King's room was changed from a secure 1st-floor room to an exposed balcony room.

Memphis police ordered the scene where multiple witnesses reported as the source of shooting cut down of their bushes that would have hid a sniper.

Along with sanitizing a crime scene, police abandoned investigative procedure to interview witnesses who lived by the scene of the shooting.

The rifle Mr. Ray delivered was not matched to the bullet that killed Dr. King, and was not sighted to accurately shoot.
More documentation:
We the People's choice: ongoing debt, destruction, death OR .01% arrests for OBVIOUS crimes annually killing millions, harming billions, looting trillions
The categories of crime include:
Wars of Aggression (the worst crime a nation can commit).
Likely treason for lying to US military, ordering unlawful attack and invasions of foreign lands, and causing thousands of US military deaths.
Crimes Against Humanity for ongoing

intentional policy

of poverty that's killed over 400 million human beings just since 1995 (~75% children; more deaths than from all wars in Earth's recorded history).
**
Carl Herman worked with both US political parties over 18 years and two UN Summits with the citizen's lobby,

RESULTS

, for US domestic and foreign policy to end poverty. He can be reached at

Carl_Herman@post.harvard.edu
Note:
My work from 2012 to October, 2017 is on
Washington's Blog
. Work back to 2009 is blocked by Examiner.com (and from other whistleblowers), so some links to those essays are blocked. If you'd like to search for those articles other sites may have republished, use words from the article title within the blocked link. Or, go to
http://archive.org/web/
, p
aste the expired link into the box, click "Browse history," then click onto the screenshots of that page for each time it was screen-shot and uploaded to webarchive (blocked author pages:
here
,
here
).